Dog Costumes
Halloween is just a few days away and yet finding the perfect costume for your large breed dog can be tough. No dog need go without a costume when there are dozens of cute options that are very affordable or could be made out of materials you probably already have at home. Need a little inspiration for your dog? Here are 10 fun easy costumes that are sure to inspire you.
1. Fireman Dog: Grab a rain coat and put some neon yellow stripes on it. Pickup a fireman hat at the dollar store and Fido is set to put out some serious flames. You can use an elastic to keep the hat on for pictures and trick or treating. Pickup a store bought version for under $15.00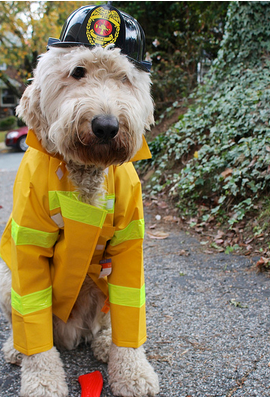 2. Ghost Dog: All you need is a spare white sheet or table cloth that you are willing to cut a few holes in and you can turn your dog into a ghostly sight. Some dogs do not like to have their face covered so test out your dog before making the costume. Who wouldn't want to give these dogs a special dog treat?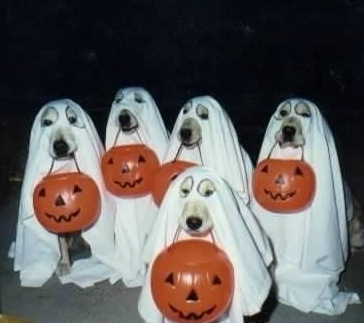 3. Superman Dog Costume: For Just $15.99 you can turn Bandit into crime stopping boss. If you are looking for a free option all you need is a Red and Blue T-shirt and a Red permanent marker. Turn the Red shirt into a flowing cape by cutting off the sleeves  and opening up the neck. A blue T-shirt with a S and you have yourself a dog that is ready to fly.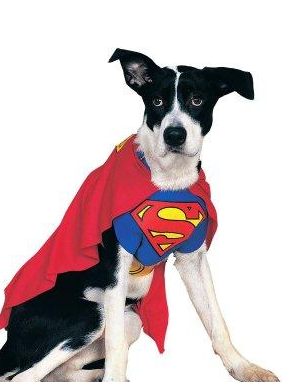 4. Shark Dog Outfit: While this costume might be a little tough to create on your own. It's perfect for smaller breeds like Pugs, French Bulldogs and Corgis. Take the terror of the sea to your living room with costumes ranging from $10-$60.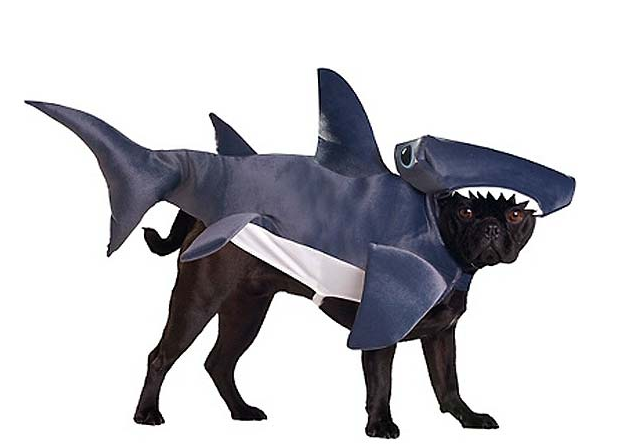 5. EWOK Dog Star Wars Costume: No Galaxy is too far away for using the Force to change your dog into an adventurous Ewok. Some specialized sewing skills would be needed to make this on your own. However the low cost threshold starts at just $15.99 and barely goes up from there. Do not join the dark side keep your kids from learning about Star Wars from this costume idea.
6. Zombie Dog. Perfect for adding a little fright to your Halloween decorations, splatter some fake blood on a a t-shirt and rip some tears in it. Pick your pup up a chew-able fake arm from the Halloween store and let it great guests your front door for a terrifying surprise. Join in on the fun and go as a Zombie right out of the Walking Dead and make it a family affair. $FREE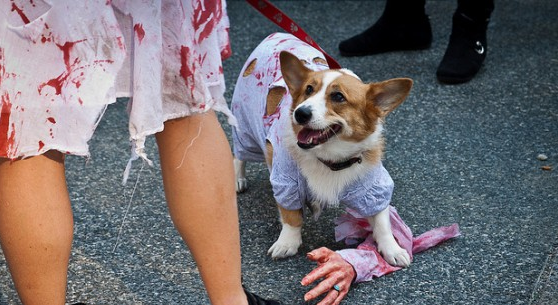 8. Pig Costume $20: Babe has never been so fast. Transform Balto into a giant cute pink pig with a fuzzy bath robe or pink towel. Grab a pig nose from the dollar store and you have the perfect costume for a cute big. Have a small breed pup, add a curly tail and you piglet is sure to win any costume prize you enter.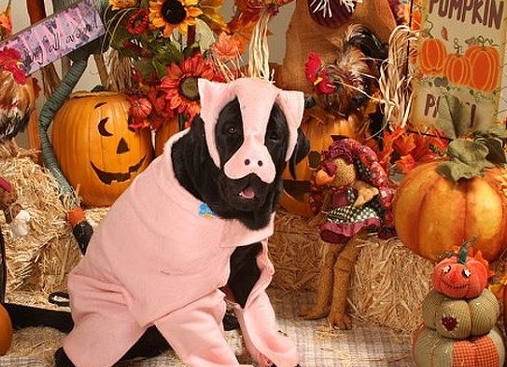 9. Dino: Go prehistoric by transforming your dog into an adorable dinosaur. With costumes available from Raptors, to Triceratops, you have a lot of choices ranging from $10-$35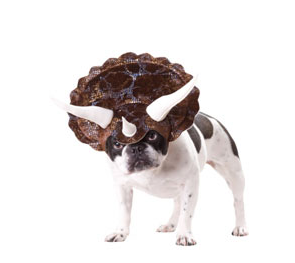 10. Witch Costume $20: Something wicked this way comes or perhaps just adorable. Easily made with a black shirt or towell as the cape. Make the hat by adding an orange belt around a cardboard hat with black fabric, tie it off with a black string and you have a Hocus Pocus inspired canine.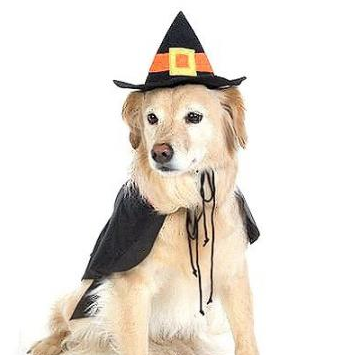 Trick Or Treat
No matter what breed of do you have coming up with a fun cute costume is easier than you might think. Remember that dogs need their own special treats so keep a few on hand in-case any of your trick or treaters bring their pup by.